Learn all about jade rollers, the benefits of gua sha and a step-by-step tutorial on how to use your jade roller to reduce wrinkles and fine lines.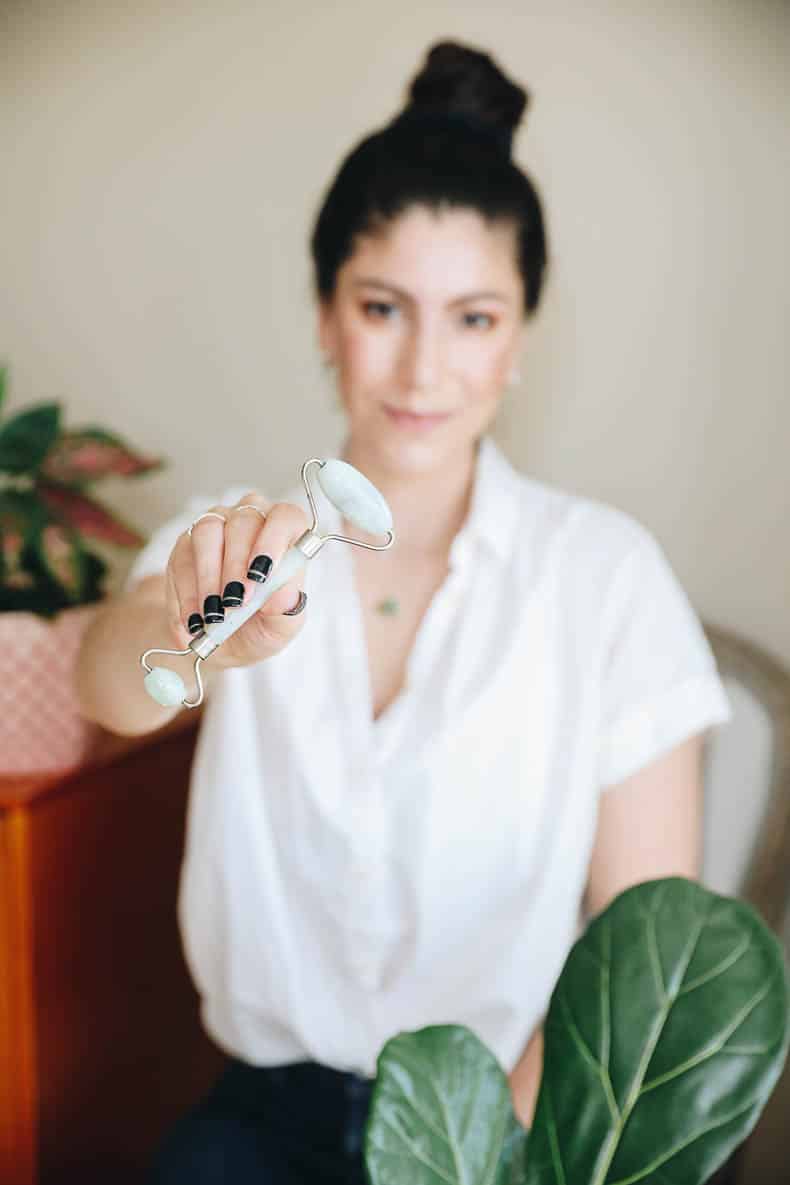 Jade rolling is an ancient practice evolved from Traditional Chinese Medicine healing modality which has been used for thousands of years. Only in the last 10 years has it gained traction within the beauty community. But is it really worth the hype? Today we're chatting all things jade rolling, other types of gua sha and how it benefits your skin.
What is Jade Rolling?
A Jade roller is a facial massage tool made from jade stone. Put simply: jade rolling is a type of gua sha. This nifty skin-care tool allows for easier rolling and stimulation of the lymphatic system. It is believed that jade stone offers healing properties for your skin is also cool to the touch which can help reduce puffiness.
Unlike other lymphatic drainage tools, jade rolling can be done without having to stare into your mirror which makes it particularly convenient.
Does Jade Rolling Work? [Jade Roller Benefits]
The benefits of jade rolling include reduced redness and scarring, muscle pain relief and potentially reducing signs of aging. Other benefits include:
1. Increased facial lymphatic drainage (improved blood circulation to help with de-puffing)
2. Decreased inflammation + acne scarring
3. Facial muscle tension relief (our facial muscles can often be overworked)
4. Decreased fine lines and wrinkles
I learned about jade rolling and gua sha through my incredible esthetician Katie from Ritual Skincare. The first time she gave me a gua sha facial I honestly had no idea what was going on but when I walked out I immediately saw the results. I had never left a facial before without my face looking puffy and red. I normally had to book off 48 hours to let my face recover. My face looked firmer with less puffiness and redness.I truly had a glow.
Consistency is key when it comes to either jade rolling or gua sha so you really won't see the benefits for your skin unless you are using it consistently.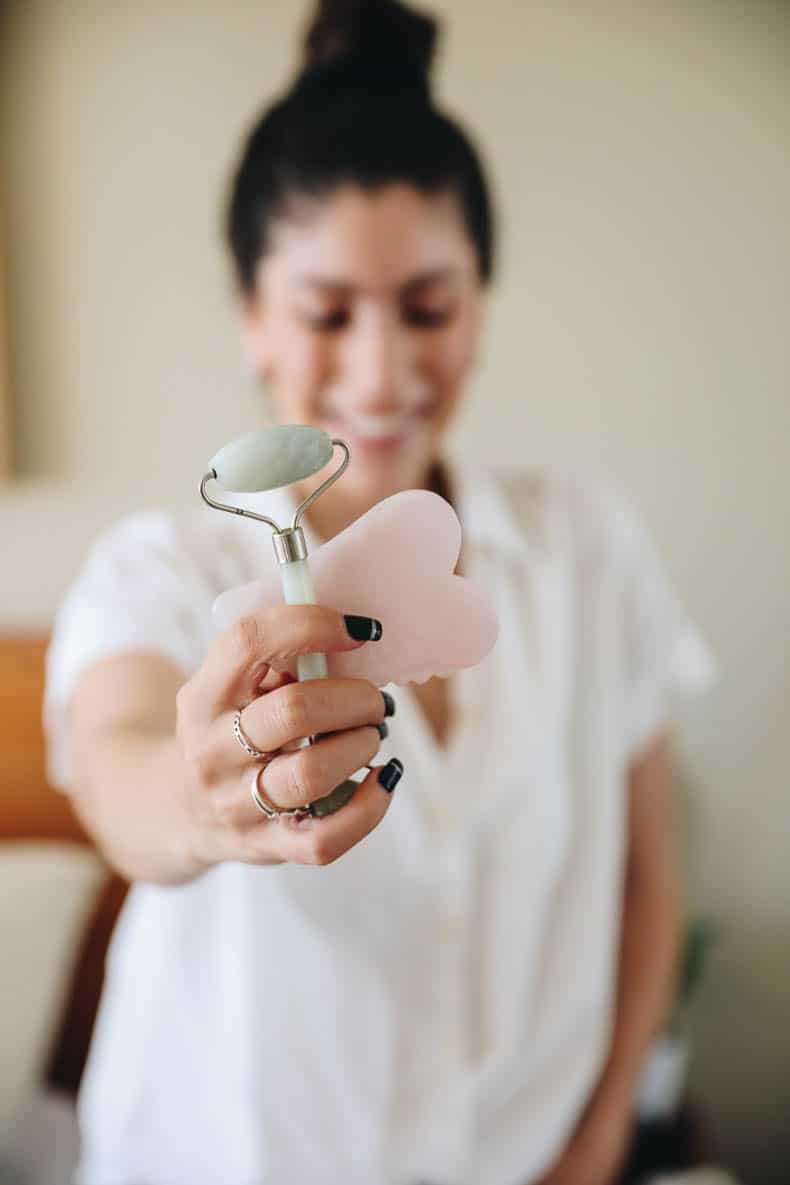 There are TONS of different types of tools out there. Some have dents and combs, some are rollers, some are made from jade and others from rose quartz or amethyst or other types of crystals (learn more about the benefit of crystals). It's less important that you have the perfect tool and more important that you have the technique down.
Before I show you how to use your jade facial roller, I want to quickly mention a few things about the best gua sha facial tools:
-Don't stress too much about what your tool is made of – jade is perfectly fine – just make sure it is made from a smooth stone or porcelain that can easily glide across your skin.
-Everyone and their mom will tell you their gua sha tool is the best. Just order one from Amazon. You do NOT need to be spending an arm and a leg on your tools.
-Make sure you are using the proper liquid while jade rolling. Ideally you'll want to use a skin-safe facial oil. Here are my favorite facial oils.
How to use a Jade Roller
–THIS is the jade face roller I have.
Now let's chat about how to jade roll:
STEP 1: Go about your normal skincare routine (cleanse, tone, serum, oil) and once the oil is on your face begin jade rolling for at least 5 minutes or longer.
STEP 2: Apply light pressure but no need to overexert. The lymphatic system is stimulated through light stroking so you do not need to push the jade roller into the face.
THE MOST IMPORTANT NOTE: *Always move in the direction of your lymph nodes*
Roll from the center of the face to the outsides
Roll down the neck towards your collarbones
Roll to the outsides of the forehead towards your hairline
Use the small end of the jade roller for delicate areas I.e. your undereyes and gently over the eyelids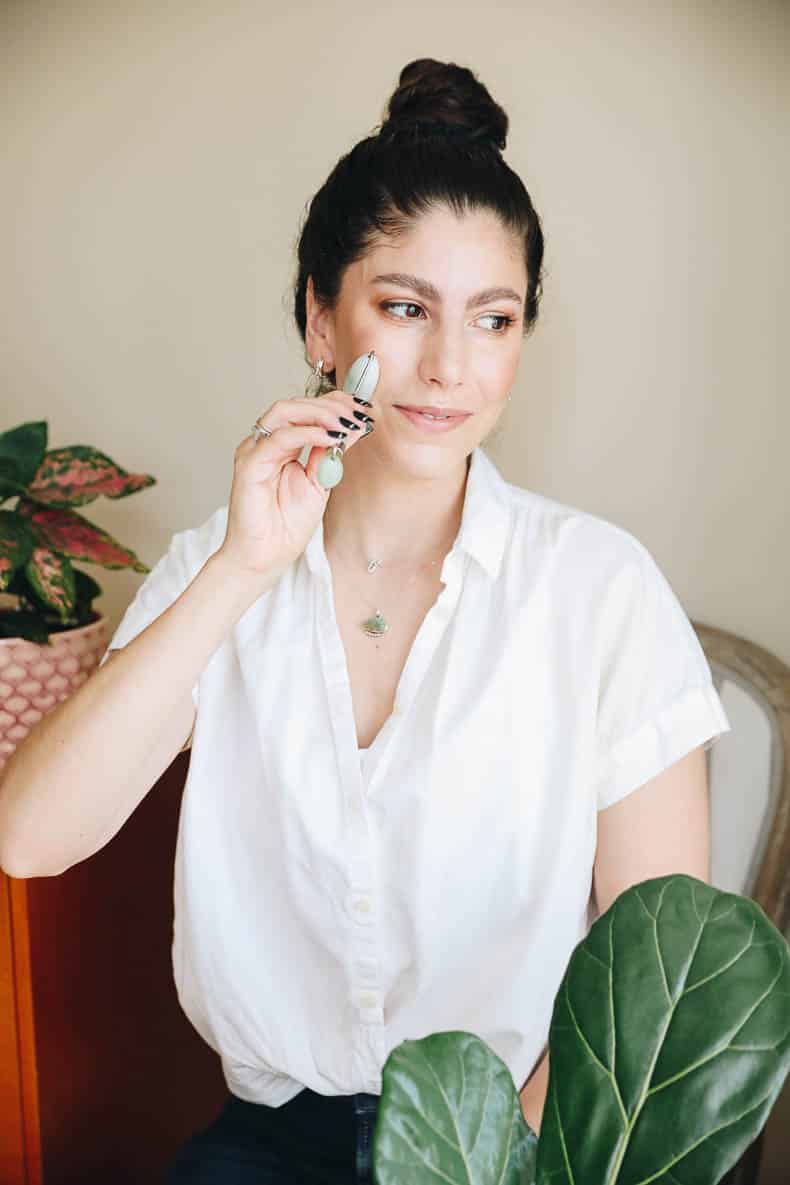 Jade Rolling Tips + Tricks:
1. Store your jade roller in the refrigerator or freezer, if desired. The cool touch of the stone can help decrease redness.
2. Your face may be red for a little bit after using your jade roller. This is normal as blood flow is being increased to these areas. I like to do it at night so in the morning my face is back to normal.
3. Clean your jade roller after use to prevent bacteria build-up.
FAQ: Common Questions
How often should you jade roll?
For best results you should jade roll consistently. You can absolutely jade roller every day and will see best results this way.
Does jade rolling work?
See above! Yes it does, but again, it comes down to consistency.
What should you put on your jade roller?
Nothing! You'll apply your oil to your skin (after washing your face) and use your jade roller with the oil on your skin. Do not try jade rolling on bare skin.
What direction should I jade roll?
As mentioned above, always jade roll in the direction of your lymph nodes I.e. outwards towards your hairline/ears and downwards along your neck towards your collarbones.
Is jade rolling the same as gua sha?
Yes, jade rolling is a type of gua sha. There are many different tools that can be used to perform gua sha and jade rollers are one type. In my personal opinion they are the easiest option!
* * * * *
That's it! Are you convinced to try gua sha or jade rolling? I encourage you to try it out for a week and see how you feel or visit a holistic esthetician who practices gua sha or lymphatic facial drainage. The main things I've noticed are smoother and less redness on my skin and drastic improvement in my acne scarring. Have fun!
Like this post? Be sure to check out the Green Beauty Shop to shop all my clean beauty favorites.
Original Source